Facebook group marketing is so damn saturated with entrepreneurs pitching their deals, I highly doubt it's very effective for anyone.  I'm sure there was a time when things were different, but as of now, every single marketer and their mother utilizes Facebook groups for marketing.
I'm not saying it's a bad thing to do Facebook group marketing, but I highly doubt you're going to get the bulk of your income by doing that.  I definitely utilize Facebook groups for promoting Project Payday.  If you don't know about them, you can read my review here. That opportunity actually works well for me when I set up this FB poster that usually makes me enough money to buy dinner and drinks in a 24 hour period.  Yeah, I know posters aren't allowed on Facebook but seriously, I'm pretty sure the majority of online marketers use one.
Don't Be A Douchebag and Spam Everyone.  Be Real.
---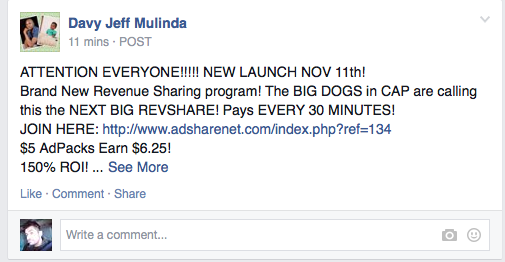 You really need to stand out from the crowd if you want to be effective promoting in Facebook groups.  I mean, you're up against every other marketer out there.  I'm pretty sure everyone claims to have the greatest opportunity since bread came sliced, so please don't go that route.
My biggest advice if you're going to do Facebook group marketing is to be as honest and real as you possibly can when posting your ads.  It's way too easy to spot a fake in this business.  So being genuine will truly stand out from the crowd.
---
And the dreaded Facebook Jail.  You know what?  I'm not even gonna go there right now.  That's a whole other topic altogether that deserves a separate blog entry, but it's another reason I decided to move to Wealthy Affiliate to earn my online income.  If you don't know about WA, you can get information about it here.
This was a short one but if you have any questions or comments at all, please leave them below and I'd be happy to answer them.  Thanks!